Recruitment is the core task of Human Resource Department in any company, irrespective of the size of the company. The task has never been easy, but a tedious process of creating a pool of talent, screening them, selecting the right candidate as per the job description and then ensure they join the company. The process has always been tiresome for the recruiter and the recruit.
Traditional recruitment process was always a long process, with organizations using methods like paper tests, job previews, etc. This method led to delays building miscommunications and activities indulging high costs. Online process did resume few years back, but with a mashup of traditional and online process.
The 21st century has witnessed a significance rise in technology. Technology has been changing the way the world works today in all dimensions. Nonetheless, recruitment process has also seen a huge change in the process. From time consuming process to easing the task, technology has proved to be fruitful. In current scenario, with the Covid19 pandemic on, the work environments are going digital and not to forget it's an advantage for both the companies and the people working for it.
Today, in this fast-paced work environment, no organizations can afford relying on traditional method of recruitment process to bring in new talent. Digital method of recruitment is what companies have started adopting and there is an immense development in the process. The modern day method of recruitment is seeing a huge difference in picking the right fit for the organization.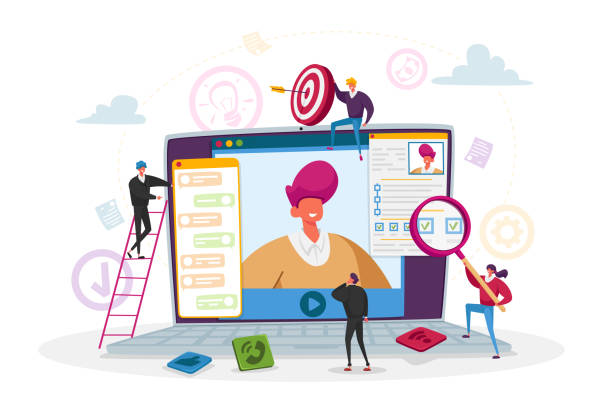 People shop online for various things in their life. And today, people shop online for jobs too. eRecruitment is the next big thing! Been hearing this? Here's why.
1. Attracts Huge No. Of Applicants
Online today has a higher value than traditional processes. There are various ways to attract applicants. Be it via Social Media platforms or Job Portals, there are number of ways to attract applicants. Reaching out to applicants has become an easier task online. About 80% plus people are on social media platforms today, and this is the best way to attract them with creative job posters. It's easier to reach a mass than contacting in smaller groups.
2. Time Saving
Technology has developed so much that it helps save time in majority of the tasks. You don't need to contact 100s of them individually informing them of your job posting. Posting your job requirements on online platforms is enough. All you have to do is enter the right keywords and your job is done. You don't need to go through every single resume of the applicants.
3. Applicant's Capability
Organizations today don't judge an applicant's capability only on the basis of their academic score, but their skillsets, communication, softskills like team work, etc. Online platforms helps a recruiter understand the applicants social index through their social presence, their communication through email exchanges and online communication. Their technology knowledge is also equally checked when interviewed online.
4. Wider Geographical Coverage
With current pandemic on and majority of the companies are going global and working remotely, the online platforms are a boon to them. eRecruitment helps you recruit someone from any part of the world. With online, you are not bound to geographic coverage. This helps you reach out a broader spectrum.
5. Cost Effective
Unlike traditional method of job postings using newspaper, posters, job boards, etc. eRecruitment is cost-effective. Considering the audience size, posting jobs online and it's placement is cheaper. There are various ways like Emails, various chat apps, job portals, ad placements, etc. available to reach out to the audience.
There are numerous reasons why eRecruitment is the next big thing. The revolution in recruiting has just resumed. As vendors are rushing in the market and with the increasing competition of offering the best in lesser time and money, it will allow the recruitment cycle to shorten even more.
For Instance, with companies like Trans Neuron Technologies Pvt. Ltd. bringing in Industry-Academia Collaborative eLearning Platform – iTrack, eRecruitment process is becoming easier. Check https://bit.ly/3jQKZPU and hire ready to deploy resources.
Summarizing, eRecruitment methods are vital to hire right fit in the modern world. There are dozens of mediums you can take advantage for eRecruitment. Get set for the eRecruitment process completely in the near future.